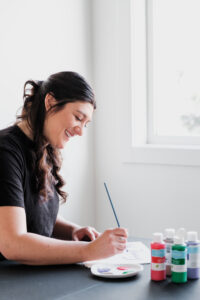 Marina is an art therapy student, working through the Women's Shelter for her practicum placement with women and children who have experienced trauma.
Art therapy addresses the mind, body, and spirit and helps people to heal through pleasure, community, relaxation and reflection. After creating, you are invited to share as much or as little as you want to about your art, your process and your life.
Marina is passionate about helping individuals find their inner resources and process trauma. She is drawn to working with the Revelstoke Women's Shelter as she sees clients within their sociocultural context, understanding that women and non-binary folks are subject to different pressures and constraints to those influencing men. Survivors of domestic violence live under a patriarchal context. Under this context, socialization patterns tend to result in women giving away their power in relationships, often without being aware of it.
Marina holds a relational, tr. Marina believes in the power of the therapeutic relationship: we are hurt in relationship, and we can heal in relationship too.
Individual, family or group sessions available. Email: movingforward@telus.net to get on the waitlist.
No Previous Art Experience Necessary. Email Marina