Support and resources
If you are in crisis, PLEASE DIAL 911
If you would like support, connect with our in-house counsellor or Moving Forward Program.
Revelstoke RCMP Victim Services: Provide services and support for victims of crime and trauma including domestic violence through the stages of the criminal justice system: 250 837 9260.
Residential school survivors: 
Indian Residential School Survivors Support Line: set up to provide support for residential school survivors. You can access emotional and crisis referral services by calling this 24-hour national crisis line: 1-866-925-4419
KUU-US Crisis Line Society: A First-Nations and Indigenous specific crisis line available 24 hours a day, 7 days a week.
IRSS: provides essential services to residential school survivors, their families, and to those dealing with intergenerational trauma.
Other resources: 
Certain forms of abuse can be very subtle. Learn more about abuse, healthy relationships and the impact they can have on an individual.
Articles
What is considered Abuse? The six types
Signs you are in a toxic relationship
Are you experiencing the cycle of abuse?
Additional Information
Report on human trafficking corridors in Canada by the Canadian Centre to End Human Trafficking
What is Gender Justice? 
The Global Fund for Women defines Gender Justice as "systemic redistribution of power, opportunities, and access for people of all genders through the dismantling of harmful structures including patriarchy, homophobia, and transphobia."
To this, the Battered Women's Support Services adds a decolonial and intersectional, anti-oppression feminist approach.
Gender Justice is a transformative concept that reorients and reenergizes the conversation about equality. More fundamentally, it points towards new ways of liberating our thinking about ourselves and each other.
Find out more: https://www.bwss.org/31-actions-for-gender-justice/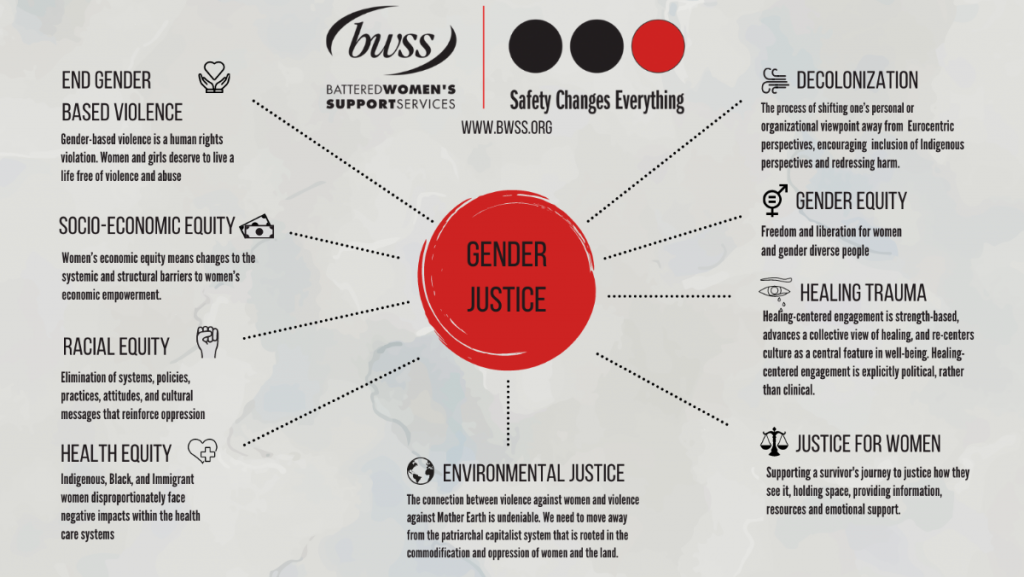 What does equality in relationships look like?