Counselling program
Available to shelter clients and the Revelstoke community
Our in-house counsellor program means that women who stay at the shelter have access to professional guidance, for free, in the safe environment of the shelter. Our in-house counsellors visit the transition house for appointments with in-house clients.
We have also opened this program up to the wider community of Revelstoke as we recognise that addressing mental health in general is a preventative measure to abuse. Anyone in the community, of any gender, can access this program and we offer ten free sessions.
We are pleased to offer the counselling services of three counselling practicum students, Marina Rachinski, Melyssa Hudson and Phoebe Toop. Marina offers art therapy and Melyssa and Phoebe offer counselling.
Our counsellors - Marina Rachinski
Marina's background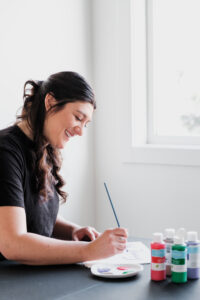 Marina is an art therapy student, working through the Women's Shelter for her practicum placement with women and children who have experienced trauma.
Art therapy addresses the mind, body, and spirit and helps people to heal through pleasure, community, relaxation and reflection. After creating, you are invited to share as much or as little as you want to about your art, your process and your life.
Marina is passionate about helping individuals find their inner resources and process trauma. She is drawn to working with the Revelstoke Women's Shelter as she sees clients within their sociocultural context, understanding that women and non-binary folks are subject to different pressures and constraints to those influencing men. Survivors of domestic violence live under a patriarchal context. Under this context, socialization patterns tend to result in women giving away their power in relationships, often without being aware of it.
Marina holds a relational, tr. Marina believes in the power of the therapeutic relationship: we are hurt in relationship, and we can heal in relationship too.
Individual, family or group sessions available. Email: movingforward@telus.net to get on the waitlist.
No Previous Art Experience Necessary
Our counsellors - Melyssa Hudson
Melyssa's background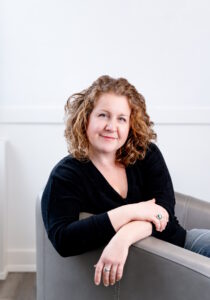 Change can be hard, but with support, change is absolutely possible. Not only is it possible, but it is also calling you – ​​today.
What I offer is the place to explore the depths of your courage, your inner wisdom, and your capacity to become who you want to be. Right now, in this moment, you know what is not serving you any longer, habits you want to break and thoughts you want to stop thinking.
But how do you make the shifts needed to step into this new version of yourself? With me.
I believe we need someone to walk alongside us to help us to make sense of change and trust in our innate capacity to weather the storms. By seeking support on your journey, you are taking the first and most challenging step: courage.
How can I help you?
My approach is non-judgemental, full of compassion and rife with curiosity. My style of therapy is whatever you need in the moment, and as you change, I change.  You are at the center of this relationship, and you are in control.
I cannot tell you how to resolve the issues you are facing but I can help you see through the overwhelm, exhaustion and fear. I can help relieve the burden of shame and feelings of hopelessness that keep you feeling stuck.
No issues are off the table. Depression, anxiety, low self-esteem, grief/loss, gender or sexual identity, anger, life transitions, career focus, addictions. It doesn't matter because at the heart of these issues are the experiences of sadness, unresolved pain, and fear.
That is what we get to the heart of.
I am currently a practicum student completing the final component of my Master of Arts, Counselling Psychology. I am providing services through the Revelstoke Women's Shelter Society at no cost.
A bit about me
For over a decade, I have worked in environmental sector advocating for the protection water and land as well as meaningful climate change policies to address the greatest challenge of our time. Advocating for the protection of nature and our precious resources is and has always been a deep passion of mine. In this sense, I have always desired to participate in healing. Over the course of this journey, I worked at the intersections of environmental racism, colonization and poverty. You can not ignore the interconnections between a natural world that is suffering and those who suffer within it.
At some point, my desired shifted to support the healing of people. So here I am.
As a child experiencing anxiety, I found relief in riding and working with horses. Horses were my safe space where the pressures of the world disappeared. Horses are an integral part of my being and I hope to share this with my clients along this therapeutic journey. Stay tuned! 
Our counsellors - Phoebe Toop
Phoebe's background
As a deeply sensitive and intuitive person I have always felt pulled towards the notion of understanding; Understanding of myself and of others so that I might meet them where they stand and share a sense of witnessing and knowing. I believe that each of us is capable of much more than we are aware, and that being seen and supported can shine light on the innate wisdom and strength within.
I began my journey towards a career in mental health when I completed a Bachelor of Psychology (with honours) in 2018. This felt like a naturally good fit for me as someone who has alwa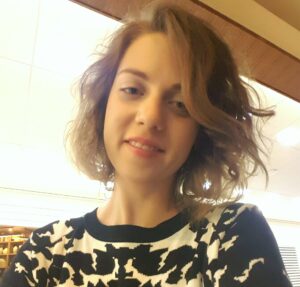 ys been fascinated by the human condition and motivated to deepen their self-awareness. After several years working as a mental health support worker in the public sector, I felt pulled to further develop my skills as a psychotherapist. I completed a postgraduate Diploma of Applied Psychology, specialising in psychotherapy, in 2022. I am now a registered professional counsellor candidate (RPC-C) offering counselling and psychotherapy services to individuals and couples.
I am deeply passionate about trauma awareness and consent culture, and I bring this foundation into all that I do. Through my own life experience, I have gained an understanding of what it means to feel safe within one's own body and this drives my desire to support and uplift others. As a therapist, some of the themes I will explore with you are attachment patterns, automatic thoughts, self-limiting beliefs, and emotion processing. With that said, I have the utmost trust in you to identify your priorities and goals in therapy.
I warmly welcome gender diverse, queer, and neurodivergent folks in a nonjudgmental approach that recognises the uniqueness of your story. You can expect a feminist, sex positive, and cultural safety focused approach from me, and I continuously welcome your feedback as I believe I have as much to learn from you as you do from me.
At this time, I am working with a registered clinical counselling supervisor as I continue to gain greater understanding and experience in providing counselling services.